Coffee Shop Brews Life Back into UPLB Music Scene
by Cyrus Fernandez
August 16, 2011

Alcohol and rock 'n roll go together by default. Pay a visit to any bar gig or rock concert and you'll find at least a dozen or so people with bottles, glasses, or cups of liquid courage in their hands.

But coffee?

The combination sounds kind of weird, a bit absurd for some even. But for young entrepreneur Jabez Flores and his team at Café Antonio Los Baños, it's just another day at work.

Enter Café Antonio Sessions, a music-related operation of the caffeine-based business co-owned by Flores. Its mission is simple: to support the UPLB music scene.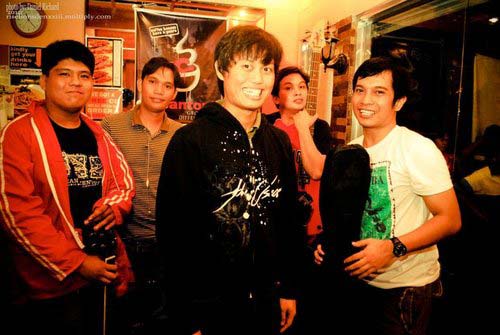 Jabez Flores (center) with some of the Sessions artists
Café Antonio Sessions traces its beginnings to a coincidental meeting between Flores and musician Eric Soliven back in 2010. Flores knew Soliven from a few years back because the latter's band Soundhole (later renamed Lime) used to play frequently alongside Flores' own Spoonbridge at the now-defunct Kofiholics Anonymous (K.A.), a local venue that musicians and music enthusiasts used to frequent.
"Hindi pa kami friends noon ni Eric, but we knew na kami yung tumutugtog dun (sa K.A.) dati. Nakita ko sya sa old site ng Café Antonio. Namukhaan ko siya," recounts Café Antonio Sessions' head. "Nilapitan ko siya the next time na nagpunta siya, tapos tinanong ko, 'Di ba ikaw yung gitarista ng Soundhole?' After that, friends na kami."
When Café Antonio was moved to its current location, the idea of having shows at the shop dawned on Flores. He presented this idea to Soliven.
"Balak ko talagang bumuo ng (music) community like the one we had in K.A. way back," narrates Flores. "So, sabi ko kay Eric, 'Buo tayo (ng sessions). Buhayin natin yung UP music scene dito.'"
Things took off from there. Inspired by the America Online (AOL) Sessions, they built up on the idea of having shows. The idea eventually materialized on July 13, 2011 when the very first Café Antonio Sessions night was performed to an intimate Saturday night crowd at the coffee shop.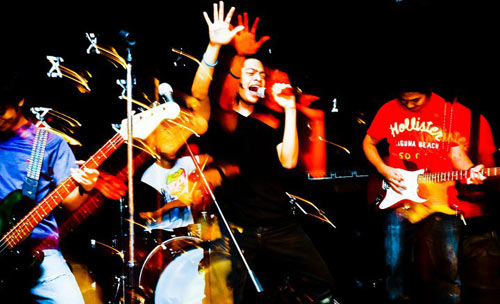 Café Antonio Sessions gives its artists full support, including free photo and video coverage of their performances such as that of Segatron.
Fast forward to 2011: at the time of this posting, Sessions nights have already been staged a total of 24 times spread throughout thirteen months.
True to its intent to help homegrown talent, all these Sessions shows featured performances from mostly local acts around the University of the Philippines in Los Baños area
Aside from organizing events, the Sessions team now dabbles in artist promotion too, helping the members of its regular roster – namely Lime, Juniper Face the Corner, Gabes Torres, Yield Avenue, Segatron, Sweet Symphony, Pathway, Riki, Crossroads, From the Author, Komiko, Satori, Playground Nostalgia and Codename Adobo – spread their music via the use of social networking sites on the Internet and having their physical merchandise displayed and sold at the café.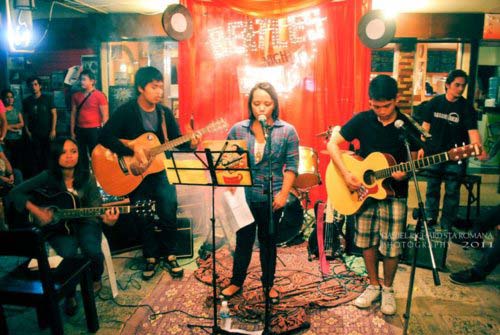 The Sessions team manages to come up with nice ways to make their shows more appealing to the UPLB audience.
Flores offers an explanation as to why they decided to branch out to artist promotion.
"We want to be known as a springboard for artists from LB," Flores says. "We offer start-up musicians our full support and we make sure na may mapupuntahan sila. Tsaka, we're really all excited na i-share yung music galing dito. Kasi, parang hanggang ngayon, best-kept secret pa rin yan."
But Flores is quick to clarify that their arrangement with the artists is not exclusive.
"They can come and go freely. They can stay kasi they want to stay. Pero, kung hindi na nila feel, okay lang na umalis. At least, dito sila nagsimula."
Despite the buzz that Sessions has generated from its activities in the past year though, its members agree that they still have to maximize the potential of the movement they started.
Their most immediate concern is the day of the week when they do their shows. For now, Sessions gigs are done every third (and in some cases, also the first and/or second) Saturday of every month. Flores thinks it will be more effective if these were to be moved to the weekdays. Most of the artists that play their gigs are students after all, and would therefore be more effective when exposed to a crowd that can identify with them and vice versa.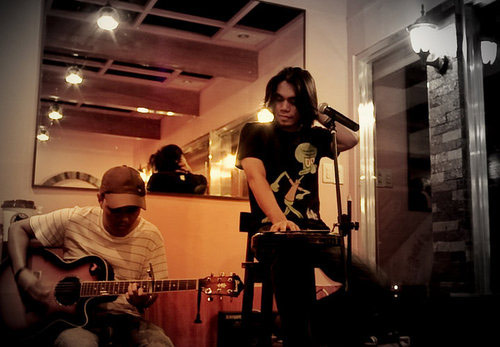 Eric Soliven (left) and Lenard Gabriel (right) of Lime performed at the very first Café Antonio Sessions night last year.
"Wala pa kami masyadong nape-penetrate na crowd to tell other people about what we do," says Flores. Kasi, yung Saturday crowd namin, usually puro dayo at alumni. Wala kaming student crowd masyado."
But all that is starting to change. The team is starting to get more attention for their work. Nowadays, they are getting more invites from student organizations that hold events frequently, therefore giving them, and more importantly their artists, access to the audience they primarily want to reach.
This attention has inspired them to come up with more plans to help foster the community spirit even further.
"We also want to hold midweek sessions for student bands na hindi part ng roster," Flores reveals, "just to show the students sa LB na merong scene dito."
Things are getting smoother for Flores and company. Being the first organized group in the area's recent memory to champion the music scene actively, their efforts have been beneficial to the community of musicians in the locale. At this point, it will only be a matter of time before the rest of the student and town population sees the music scene in plain view again.
The Sessions team doesn't even mind having to pull resources out of all their pockets. After all, according to them, they do this for one simple reason.
"We just love it."
- YA, GMA News
Café Antonio is located at LB Square along Grove Avenue, Brgy. Batong Malake, Los Baños, Laguna. For more information about Café Antonio Sessions, visit cafeantoniosessions.tumblr.com
All photos courtesy of Cafe Antonio Sessions
Source: http://www.gmanews.tv/story/229587/lifestyle/coffee-shop-brews-life-back-into-uplb-music-scene